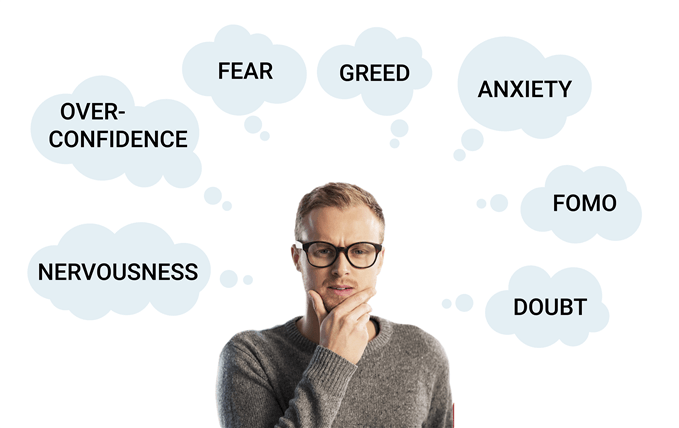 1. EMOTION MANAGEMENT
One of the most critical aspects of trading psychology is emotion management. Successful traders understand the importance of keeping emotions in check while making trading decisions. Fear, greed, and overconfidence can lead to impulsive actions and cloud judgment, resulting in poor trading choices. Learning to stay disciplined, patient, and focused, even during volatile market conditions, is a trait that sets successful traders apart.
2. RISK MANAGEMENT
Maintaining proper risk management is another fundamental psychological factor for successful traders. This involves setting risk limits, determining position sizes, and sticking to a well-defined trading plan. Successful traders prioritize protecting their capital, understanding that preserving their funds is essential for long-term success. Emotionally driven traders often neglect risk management, leading to significant losses that can be detrimental to their trading career.
3. ADAPTABILITY AND LEARNING
The financial markets are ever-changing, and successful traders possess adaptability and a continuous desire to learn. They stay open to new information, adjust their strategies when necessary, and avoid being stuck in rigid trading patterns. By embracing a growth mindset, successful traders remain humble, acknowledging that there is always more to learn, which helps them stay ahead in the dynamic trading landscape.
4. PATIENCE AND DISCIPLINE
Patience and discipline go hand in hand in successful trading. Waiting for the right trading opportunities, following the trading plan diligently, and not succumbing to the pressure of constant trading are vital for consistent profitability. Successful traders understand that not every moment is ideal for trading and exercise discipline in adhering to their set rules.
5. HANDLING LOSSES GRACEFULLY
Losses are an inevitable part of trading, even for the most successful traders. How a trader handles losses is crucial to their long-term success. Successful traders approach losses with objectivity, analyzing what went wrong, and learning from their mistakes. Instead of dwelling on losses emotionally, they view them as valuable lessons that contribute to their growth as traders.
CONCLUSION
Mastering the psychology of successful traders requires the delicate balance of managing emotions, embracing growth, and maintaining discipline and patience. While market analysis and trading strategies are significant, understanding and applying psychological factors is equally crucial. By doing so, traders can enhance their decision-making, adaptability, and overall trading performance. Cultivating a strong trading mindset is an ongoing journey that leads traders to sustainable success in the financial markets.